SOLD!! 536 Highway 335
Big Horn, WY 82833
Beds: 4
Baths: 4 (full)
Sqft: 4,950
Acres: 463.98
SOLD
SOLD
SOLD
SOLD
SOLD
SOLD
SOLD
SOLD
SOLD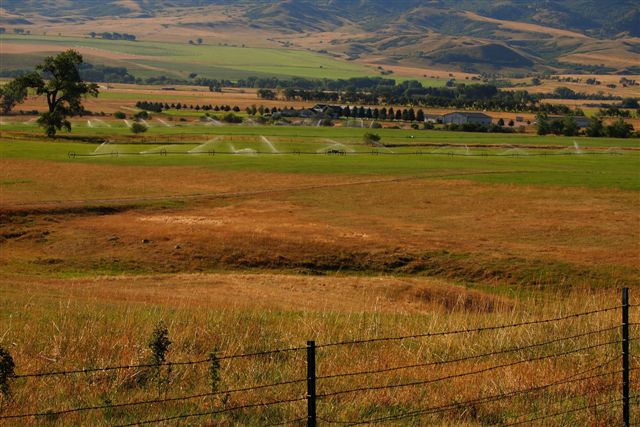 SOLD
SOLD
SOLD
SOLD
SOLD
SOLD
Description
Peralta Ranch named after a local historic irrigation ditch, this is a true Big Horn Gem. A rare sized ranch to come on the market totaling 463 acres.

The ranch provides approximately 270 irrigate able acres and 193 acres of pasture land. The ranch is well watered with Park reservoir and Martin reservoir water rights all irrigation is gravity fed. Numerous side roll sprinkler systems operate on the ranch. The improvements consist of a 4 bedroom 3 bath home with updated Marmoleum Click flooring, a large shop, several smaller shops, equipment shed and a commercial greenhouse. The ranch has several draws with wonderful southern exposures. The Big Horn Mountains sit just south and west of this ranch providing view sheds that show off Mother Natures handy work. The ranch would work well for cattle and hay production and it has potential for horse operations also. Many of the fences on the property where built new in 2009. Current lessor would be interested in continuing to lease the ranch from a new owner. Lastly, the ranch provides many recreational opportunities and is in close proximity to all of the wonderful amenities that the Sheridan area provides.   4 baths consisting of 3 full, 1 half.
Call our FREE 24 hour information line at 1-800-743-0732, Ext. 3513 for details or to speak with Bruce Garber directly.

From Rustic to Refined we are your best choice for Wyoming Fine Homes & Estates.
Details
Agent: Bruce Garber
MLS Number: 10-869
Property Type: House
garage: 2
flooring: Mixed
construction: Stick Built
roof: Composite Asphalt
style: Ranch
Land and Ranch Sold: Yes
List Price: 4250000
Land and Ranch: Yes